Brinnid
From MeiLinWiki
Brinnid IX is a character in An Intimate History of the Greater Kingdom. He is the King of Sairland and the Far Isles in 990 KY.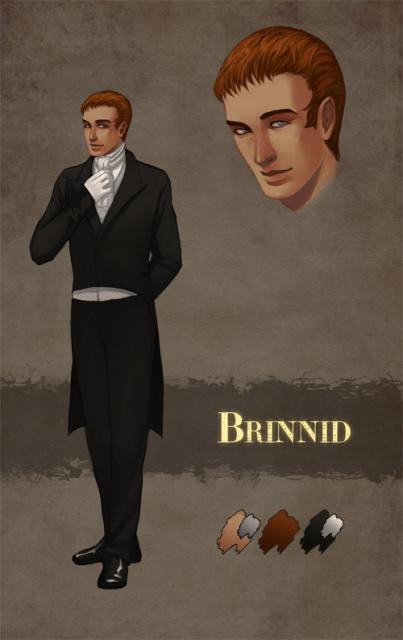 Brinnid is formally styled
He was born around 963 KY. He has (or had?) a brother, four years older than him, named Bannig. Their mother is Queen Arricta.
The first he saw of his intended wife Sedra was a miniature of a portrait of Sedra by the Tremontine artist Rennard, which proved surprisingly true to the original. He used his title of Earl of Maccal, which had originally belonged to his brother, to attend the last ball of the 990 KY season at the Keep to see Sedra without formalities getting in the way. He is officially betrothed to her, as well as deeply in love.
Brinnid is described as "tall, strongly built but not heavy, with thick russet hair cut unfashionably short. His tanned, handsome face was clean-shaven and open, with fine, sharp cheekbones and jaw, and freckles across the bridge of his nose. His eyes were a warm gray, and though he was young there were already crinkles forming at their corners from the outdoors, and from laughing."
As the king of Sairland, Brinnid wields the male magic inside his country. As a magic user, he is also apparently able to read the Book even though he was in Tremont at the time.
He is known to distill his own Calvas with apples from his orchard, but it isn't clear yet if Calvas is a Sairish drink or a generally known one that he happens to prefer.