Parenting and Emergencies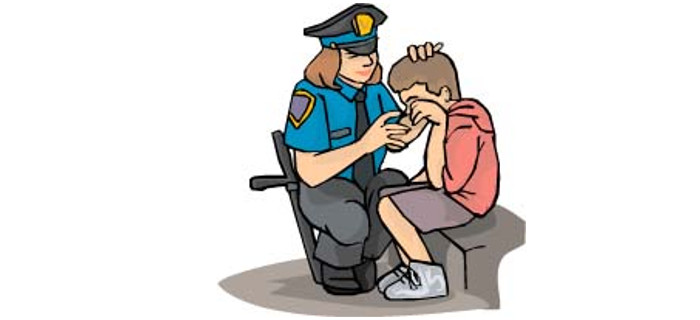 Preparing for a happy ending
It's going to be close," I thought, as I glanced quickly at the clock in my car. My 2 youngest children would be home from school in just a few minutes, and chances were they were going to beat me there. "I should have hurried more at the store," I murmured to myself. Well, they may have to wait just a couple of minutes for me.
A moment later, a car pulled onto the highway too fast and collided with mine. No one was injured, but between waiting for the police and filling out reports, it was another hour and a half before I could make it home. During that time I had no way of contacting my little children who would be locked out of the house.
Don't get caught off guard
Like most parents, I have taught my children many things to try to keep them safe. But this situation still caught me off guard; I had never told my children what to do in case I wasn't home after school, because up to that point I had already been there.
But the unexpected does happen. You may not be involved in an accident, but the roads could be blocked from someone else's accident, or bad weather or even a natural disaster--such as an earthquake--could delay you. Whether your children are at home or by your side when these things happen; you need to be prepared.
Preparing for the unexpected
If Mom and Dad aren't home to let you in
Teach your children where to go or what to do if they come home and you're not there. For example, you may tell them to wait 10 minutes then go to a specific neighbor's house (be sure that the neighbor knows about this arrangement). Teach them also to leave you a note telling specifically where they've gone so that you don't have to hunt around for them in a panic when you do get home.
Avoiding "stranger danger"
Choose a password that only you and your children know. If you need to call someone to pick up your children and have no way of contacting the children yourself the password will be a cue to your children that it's okay to go with the person.
Be sure they know to never ever go with someone--even Uncle Dave--unless you have told them in advance to expect it or the person has the password. This will not only protect your children, but will ensure that you always know their whereabouts.
Staying with the familiar
If children walk to and from the school or bus stop, teach them to always use the same route, and never take shortcuts through unfamiliar areas. You might also want to give them a list of phone numbers, and perhaps a note of reassurance from you that they can read in an emergency.
Knowing where you are
For older children, teach them to always notify you of their whereabouts so that you can contact them if necessary. Be sure to tell them that this is a matter of safety and courtesy, not a matter of not trusting them or treating them as though they were little. The best way to do this is to extend to them the same courtesy - let them know your plans so that they can contact you if the need arises.
Keeping emergency information up-to-date
Keep a list of phone numbers in your car, wallet, or purse for emergencies. Include numbers for neighbors, your spouse's work, nearby relatives, your child's school, etc. Also include the name and number of your doctor and any medical conditions or allergies you or other family members may have. Write down your own phone number, address, and license plate number as well.
Even if you have these things memorized, it's important to have a copy written down. In an accident or other adreneline-pumping situation it's all too easy to forget things that would normally be very easy to remember, and a serious injury could prevent you from giving out necessary information to the police or emergency room personnel.
Stocking emergency supplies in cars
Carry drinking water, a small amount of non-perishable food, and a first-aid kit. If you have small children, you may want to stash a couple of small toys or books in your trunk to comfort and entertain them during a long delay.
After my own accident I was grateful for some library books that happened to be in the car, as they helped keep my 12 year old son calm after a very upsetting experience during the long wait for the police. Though no first aid was needed, I was quite thirsty during the wait and a little bit of water would have helped ease my own stress.
Along with the first aid kit, include any prescription medications that must be taken regularly or may be needed in an emergency. For example, a diabetic would want to include hard candies or gluten tablets.
In the winter months, carry a blanket or two to help keep you warm if you are stranded.
Keeping safe on the road
If you are involved in an accident on the highway and have to stop your car, get yourself and your family as far away from the road as possible. Cars are driven at such high speeds on the highway that it's all too easy for your car to be hit as it sits by the side of the road. Don't be a victim twice.
Getting physically ready for anything
Stay in shape. This may seem like an odd safety tip, but what if your car stalls in the middle of nowhere and you have to hike five miles to get help? Would you pass out halfway there? If you were to injure yourself in an accident, how much less grueling would the physical therapy be if you were in good shape to begin with? And most important of all, if you are in good physical condition your injuries could be less severe than they would otherwise be, and you will also be better able to handle the stress.
All's well that ends well
My story has a happy ending. No one was injured, and my little children were able to stay calm and get the help they needed until I returned home. No one ever wishes to have accidents happen, but a little preparation can bring peace of mind and increase the possibility that should an emergency arise you, too, will have a happy ending.
Alice E. Workman is the mother of three, a writer and homeschooler. She is the Editor of Love of Learning, a free email newsletter for parents and homeschoolers. Information and back issues of Love of Learning can be found at http://edsupply.hypermart.net