Three Girl Scout Troops, Two Girls (Plus Mom)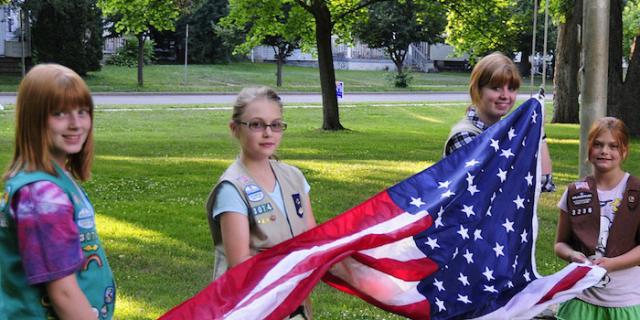 Separating 'Mom' from 'Leader' makes it more fun for everyone
Some Mondays, my weekly calendar, posted on the large white dry erase board, is covered with activity. Five different colors, one for each family member makes quite a rainbow. I've even got the dog's schedule written in light yellow. (I don't want to make his activities look too imposing.) It still seems like too much.
Every other week, we've got three Girl Scout meetings scheduled. My spouse used to exclaim, "How can that be? We've only got two daughters!" I remind him, "One meeting for Sarah, one for Karen, and one for me." Oh. That's right. I lead a troop and neither of my children are in it. It's kind of a personal extravagance, that biweekly meeting.
It didn't start out that way. I used to lead my oldest daughter's troop. For two years we went to meetings together. But as time passed, the troop's make-up went from having a mixture of girls who attended several different schools to having eight girls from one school and then my daughter who attended a different school from the others.
She began to feel left out. While they were conversing about the crazy antics the principal performed that day, my daughter was silent. When they squealed about the all-school picnic slated for two evenings hence, my daughter looked out the window and remained silent.
When I suggested that she transfer to another troop which included five of her classmates, she jumped at the chance. I hadn't realized until then how desperately isolated she'd felt in Troop 50. So now she's a member of Troop 931, her younger sister's in Troop 186, and her mom still leads Troop 50.
Most, maybe all, of the other parents were surprised when my daughter switched troops and yet I remained the leader of Troop 50. "But, I really like leading." "I don't want to leave you without a leader." "The other troop doesn't need any more leads," I'd say over and over.
Truth is, I really do love to lead. And now that my daughter is in another troop, I'm free to wear just one hat, "Leader," instead of "Leader" and "Mom." It's much easier to focus on the girls. I feel free to show my Brownies how much I enjoy their company. I no longer have to worry about my daughter feeling slighted or anxious about sharing her mom.
It's wonderful, truly, to watch my Brownies grow and develop. I love knowing that I am important in their lives. Okay, I'll admit it. It's an ego trip. It's looking out at eight pairs of beautiful eyes and feeling, to the bone, that although they don't have to , they admire me. Of course my own kids love me. And while they were quite young, they thought I was the bestest, smartest person in the world. It's an entirely different experience to have unrelated children feel that way
about me. And I like it.
So we have three Girl Scout meetings this week--one for each girl in the family. And each girl in the family grows and changes for the better while sitting in her Brownie circle and singing her Brownie songs.
Susan Budig has been married to Tom Reimler since 1988, and is mama to Sarah ('90), Karen ('93), & Joseph ('96).